Welcome to the Pororopedia
You are on the home page of the Pororopedia, a wiki for everything related to the popular Korean kids show, Pororo the Little Penguin, which started on November 27, 2003! Pororopedia is a collaborative encyclopedia about the South Korean CGI animated series, Pororo the Little Penguin, that anyone can edit! Join us and learn more about the series. This is a collaborative information database as well as being the official guide to the show! Pororo the Little Penguin is a franchise that was initially created in Korea, made by Choi Jong-il, and gained worldwide popularity on television in 2003. The series focuses on the gang, which are Pororo, Crong, Loopy, Eddy, Poby, Petty and Harry who live in Porong Porong Forest. They are good friends who stumbled upon the forest and every one of themselves has different characteristics, looks different and each of them want to do different activities. By disporting themselves, they learn about their own merits and faults and how to be considerate of others. The series also teaches morals on how to be a better person!
This wiki, founded on January 6th, 2011, when you learn about the series, get to know Pororo and his friends, the places in the show, the music and songs from the episodes, the scripts for every episode of the show, and the people behind the series, this wiki is the perfect place to have some fun! To begin, click on any link on this page or "random page" in the navigation bar to get a surprise page! We have 10 active users editing 758 articles and 1,626 files. Currently, we have 20,534 edits on articles.
Please look at our guidelines first before commenting and editing.
Meet the gang, the main characters of the entire franchise!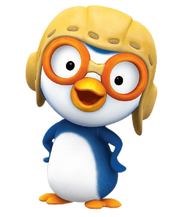 Pororo is the main protagonist of the Pororo the Little Penguin franchise, who appears in almost every episode in the series. He also appears in Pororo Singalong, as one of the main characters.
Personality: Pororo is a little penguin that marks him as the titular character of the cast of friends and is the leader of the group. As remarked by the narrator, he is shown to be curious. He often gets into various types of mischief with his friends, which includes trying to fly and playing practical pranks on his friends. He also can have a rivalry with Crong and Eddy sometimes. Pororo resides in a pine-tree house with Crong, his dinosaur friend and adopted little brother. He has a crush on Petty. Loopy admires him and tends to like him more than a 'friend'. Petty is his 'Dancing Partner' in the Dance Festival with the dance "Freeze in your Position" (Pororo Singalong). In the third season, Loopy tells a tale about Pororo will marry Loopy, but Pororo denied and replies with "But I want to marry beautiful Princess Petty!". Pororo is also good friends with Eddy, but is also his friendly rival.
Looks: Pororo is a cute gentoo penguin who wears a tan aviator's helmet and orange goggles. Starting with the third season, he begins to wear a blue jumpsuit, an orange bandana, gold gloves, and a yellow racing helmet, with the letter P on top.
History: In "We're friends!", Pororo wanted to make a snowman, but found a egg and brought it with him into his house to make an omelet. When Pororo wanted to break an egg, unfortunately, because of the hatched egg with the dinosaur Crong. A monster scares Pororo and he runs away. Crong not realizing what makes Pororo run,he runs off after him. As a result, Pororo understands that Crong is a harmless creature.
Click here to know more about him!
We're friends! is the very first episode of the Pororo the Little Penguin Series.
Summary: A little penguin named Pororo lived in a small forest village far in an snowy world called Porong Porong Village. While having fun playing in the woods and building a snowman, Pororo finds a mysterious egg. He brings it back to his house to eat it, but the egg starts to crack and a baby dinosaur, comes out. Pororo thinks the dinosaur is a flower and makes friends with him. He passed his friends they thought he was exercising they followed him. Poby fell in the mountain next by Eddy then Loopy. Pororo slides down too as he is often nice to the baby dinosaur. After they slid down, Pororo and friends introduced themselves to the baby dinosaur as the baby dinosaur introduced himself as Crong. Pororo and friends are glad to meet Crong.
Click here to read more about it!
Facebook fan group
We now have a Pororo Facebook fan group for all fans! Click here to join!
Other animated TV show wikis
This wiki is a fan-oriented website for archival and educational purposes only. Pororo the Little Penguin belongs to OCON STUDIOS and ICONIX Entertainment.
Users
You must be logged in order to edit or comment on the Pororopedia.
You must be 13 years of age (16 in California or the European Economic Area (EEA), not including the UK) or older in order to create an account.
It is against the law and against the Terms of Service for users under this age to create or use Fandom accounts.
Featured Quote
"I love to play all day. Come join me, all my friends!" — Pororo
Kpop Idols who watch, enjoy, or have mentioned Pororo include: