ADMINISTRATOR
Cutiesunflower is an administrator of the Pororopedia! You can send them a message on their message wall if you have any questions or need help on the wiki. They can also be messaged to report a rule-violating user. If this admin is away or unable to help with a specific problem, contact another admin listed at the bottom of the profile page.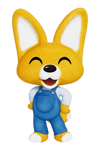 "I'll help you with this!"
The admin list is proof of this user's administrative status. If this user's name is not on the list, they are pretending to be an administrator, which violates our guidelines. Users pretending to have any sort of administrative status should be immediately reported to WillMystery.

Please don't edit my user page without my consent.
I used to watch Pororo back in 2011 or 2012, and now I am starting to edit pages. I adopted this wiki on May 27th, 2020, because this wiki had lacked admins for nearly two years until I requested it.
Community content is available under
CC-BY-SA
unless otherwise noted.